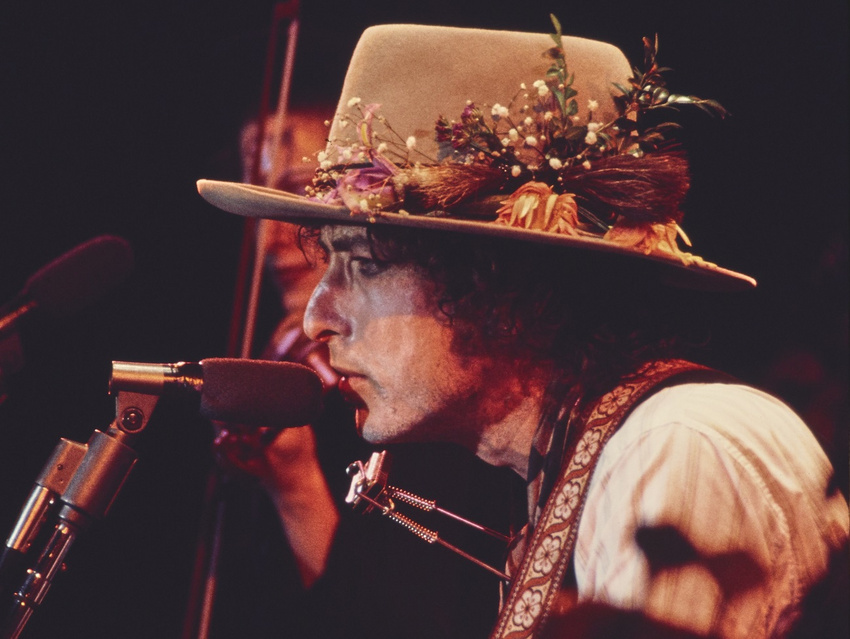 Bob Dylan "The Rolling Thunder Revue: The 1975 Live Recordings" (2019) © Ken Regan
Die Gerüchte haben sich als korrekt erwiesen. Das 14 CD Set "Rolling Thunder Revue: The 1975 Live Recordings" von Bob Dylan wird am 7. Juni erscheinen.
Das ist deshalb bekannt, weil einer der Verantwortlichen bei www.bobdylan.com zu früh auf ein Knöpfchen gedrückt hat und die Informationen daher einige Stunden online waren. Obwohl die Seite inzwischen wieder offline ist, kursieren die Infos nach wie vor im Netz. Einige Bilder sind aber hier zu sehen.
Update, 30. April: Inzwischen ist die Box offiziell angekündigt.
Bemerkenswerte Details
Dank des Leaks ist klar, dass das Set aus fünf kompletten Rolling Thunder Konzerten aus dem November und Dezember 1975 bestehen wird. Die Konzerte fanden in Worcester, Cambridge, Boston (x2), alle in Massachusetts und im kanadischen Montreal statt.
Zudem – und das ist die eigentliche Überraschung – gibt es drei CDs mit Aufnahmen, die bei Proben für die Tour im Oktober 1975 entstanden. Dazu gibt es eine CD mit Raritäten. Der Preis für die CD Box wird bei ungefähr 100 Euro bzw. Dollar liegen. Ausgewählte Aufnahmen werden auch auf Vinyl veröffentlicht.
Dazu mit Film
Die dazugehörige Dokumentation "Rolling Thunder Revue: A Bob Dylan Story by Martin Scorsese" von Regisseur Martin Scorsese wird ab 12. Juni auf Netflix und in einigen wenigen Kinos (vornehmlich in den USA) zu sehen sein. Das berichtet exklusiv das US-Magazin Variety.
Die Details der CD Box im Einzelnen
14-disc set, over 100 previously unreleased tracks, five complete shows, newly mixed, three discs of rehearsals, bonus disc of rarities
CD 1: S.I.R. Rehearsals, New York, NY – October 19, 1975
CD 2: S.I.R. Rehearsals, New York, NY – October 21, 1975
CD 3: Seacrest Motel Rehearsals, Falmouth, MA – October 29, 1975
CD 4-5: Memorial Auditorium, Worcester, MA – November 19, 1975
CD 6-7: Harvard Square Theater, Cambridge, MA – November 20, 1975
CD 8-9: Boston Music Hall, Boston, MA – November 21, 1975 (afternoon)
CD 10-11: Boston Music Hall, Boston, MA – November 21, 1975 (evening)
CD 12-13: Forum de Montreal, Quebec, Canada – December 4, 1975
CD 14: Rare Performances
Tracklist:
CD 1
Rake and Ramblin' Boy
Romance in Durango
Rita May
I Want You
Love Minus Zero/No Limit
She Belongs to Me
Joey
Isis
Hollywood Angel
People Get Ready
What Will You Do When Jesus Comes?
Spanish Is the Loving Tongue
The Ballad of Ira Hayes
One More Cup of Coffee (Valley Below)
Tonight I'll Be Staying Here with You
This Land Is Your Land
Dark as a Dungeon
CD 2
She Belongs to Me
A Hard Rain's a-Gonna Fall
Isis
This Wheel's on Fire/Hurricane/All Along the Watchtower
One More Cup of Coffee (Valley Below)
If You See Her, Say Hello
One Too Many Mornings
Gwenevere
Lily, Rosemary and the Jack of Hearts
Patty's Gone to Laredo
It's Alright, Ma (I'm Only Bleeding)
CD 3
Tears of Rage
I Shall Be Released
Easy and Slow
Ballad of a Thin Man
Hurricane
One More Cup of Coffee (Valley Below)
Just Like a Woman
Knockin' on Heaven's Door
CD 4
When I Paint My Masterpiece
It Ain't Me, Babe
The Lonesome Death of Hattie Carroll
It Takes a Lot to Laugh, It Takes a Train to Cry
Romance in Durango
Isis
Blowin' in the Wind
Wild Mountain Thyme
Mama, You Been on My Mind
Dark as a Dungeon
I Shall Be Released
CD 5
Tangled Up in Blue
Oh, Sister
Hurricane
One More Cup of Coffee (Valley Below)
Sara
Just Like a Woman
Knockin' on Heaven's Door
This Land Is Your Land
CD 6
When I Paint My Masterpiece
It Ain't Me, Babe
The Lonesome Death of Hattie Carroll
It Takes a Lot to Laugh, It Takes a Train to Cry
Romance in Durango
Isis
Blowin' in the Wind
Wild Mountain Thyme
Mama, You Been on My Mind
Dark as a Dungeon
I Shall Be Released
CD 7
Simple Twist of Fate
Oh, Sister
Hurricane
One More Cup of Coffee (Valley Below)
Sara
Just Like a Woman
Knockin' on Heaven's Door
This Land Is Your Land
CD 8
When I Paint My Masterpiece
It Ain't Me, Babe
The Lonesome Death of Hattie Carroll
A Hard Rain's a-Gonna Fall
Romance in Durango
Isis
The Times They Are a-Changin'
I Dreamed I Saw St. Augustine
Mama, You Been on My Mind
Never Let Me Go
I Shall Be Released
CD 9
Mr. Tambourine Man
Oh, Sister
Hurricane
One More Cup of Coffee (Valley Below)
Sara
Just Like a Woman
Knockin' on Heaven's Door
This Land Is Your Land
CD 10
When I Paint My Masterpiece
It Ain't Me, Babe
The Lonesome Death of Hattie Carroll
It Takes a Lot to Laugh, It Takes a Train to Cry
Romance in Durango
Isis
Blowin' in the Wind
The Water Is Wide
Mama, You Been on My Mind
Dark as a Dungeon
I Shall Be Released
CD 11
I Don't Believe You (She Acts Like We Never Have Met)
Tangled Up in Blue
Oh, Sister
Hurricane
One More Cup of Coffee (Valley Below)
Sara
Just Like a Woman
Knockin' on Heaven's Door
This Land Is Your Land
CD 12
When I Paint My Masterpiece
It Ain't Me, Babe
The Lonesome Death of Hattie Carroll
Tonight I'll Be Staying Here with You
A Hard Rain's a-Gonna Fall
Romance in Durango
Isis
Blowin' in the Wind
Dark as a Dungeon
Mama, You Been on My Mind
Never Let Me Go
I Dreamed I Saw St. Augustine
I Shall Be Released
CD 13
It's All Over Now, Baby Blue
Love Minus Zero/No Limit
Tangled Up in Blue
Oh, Sister
Hurricane
One More Cup of Coffee (Valley Below)
Sara
Just Like a Woman
Knockin' on Heaven's Door
This Land Is Your Land
CD 14
One Too Many Mornings (October 24 – Gerdes Folk City, New York City)
Simple Twist of Fate (October 28 – Mahjong Parlor, Falmouth, MA)
Isis (November 2 – Technical University, Lowell, MA)
With God on Our Side (November 4 – Afternoon – Civic Center, Providence, RI)
It's Alright, Ma (I'm Only Bleeding) (November 4 – Evening – Civic Center, Providence, RI)
Radio advertisement for Niagara Falls shows (Niagara Falls, NY)
The Ballad of Ira Hayes (November 16 – Tuscarora Reservation, NY)
Your Cheatin' Heart (November 23)
Fourth Time Around (November 26 – Civic Center, Augusta, Maine)
The Tracks of My Tears (December 3 – Chateau Champlain, Montreal Canada)
Jesse James (December 5 – Montreal Stables, Montreal, Canada)
It Takes a Lot to Laugh, It Takes a Train to Cry (December 8 – "Night of the Hurricane," Madison Square Garden, New York, NY)
Das könnte Sie auch interessieren