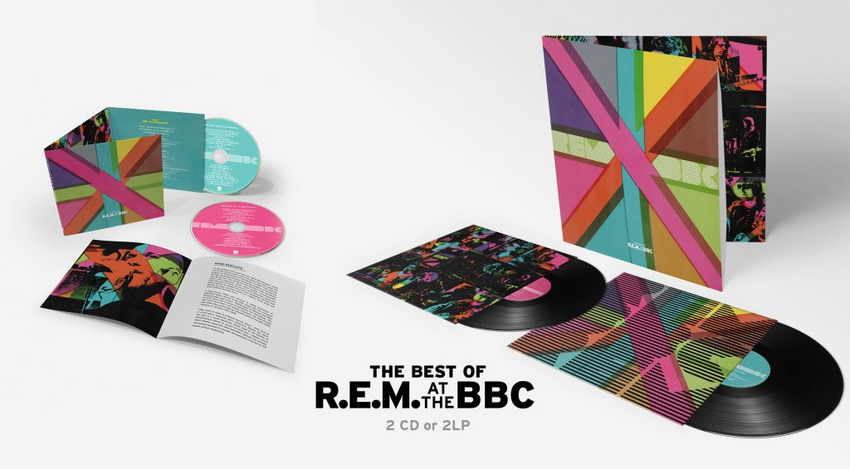 "Best of R.E.M.at the BBC" ist als 2CD/2LP Ausgabe sowie als Box-Set erhältlich. © R.E.M. HQ
Im Gegensatz zu vielen anderen "Live at the BBC"-Veröffentlichungen enthält die Zusammenstellung der BBC nicht nur Aufnahmen von R.E.M., die exklusiv in den BBC-Studios entstanden, sondern auch Mitschnitte von Festivalauftritten, beispielsweise vom Glastonbury Festival 1999.
Die Veröffentlichung besteht daher in allen Formaten aus einem "Sessions"-Teil von Einspielungen exklusiv für die BBC und einem "Broadcast"-Teil, der im Radio oder Fernsehen übertragene Konzerte beinhaltet. Alle Aufnahmen sind in der umfassenden 8-CD/1-DVD Box enthalten, während die 2CD/2LP-Zusammenstellungen eine Auswahl der besten Momente bieten.
Große Lücke
Die frühesten Aufnahmen stammen aus Birmingham aus dem Jahr 1984, als R.E.M. in Europa noch weitgehend unbekannt waren. Leider hat sich offensichtlich kein Mitschnitt der Konzerte im Rahmen der "Work Tour" (1987) und der "Green Tour" (1989) erhalten.
R.E.M. waren zwar im Rahmen beider Tourneen bei der BBC zu Gast, spielten aber keine Songs live. Offensichtlich hat die BBC in diesen Jahren auch keine externen Konzerte mitgeschnitten, was ausgesprochen bedauerlich ist.
Triumphale Rückkehr
R.E.M. Fans wissen, dass die Band danach sechs Jahre nicht mehr auf Tour ging, obwohl ihre Platten sich millionenfach verkauften. Aus der "konzertlosen Zeit" ist immerhin eine Peel-Session aus dem Jahr 1991 enthalten.
Weiter geht es dann mit dem Auftritt vor mehr als 60.000 Zuschauern im National Bowl in Milton Keynes aus dem Jahr 1995 im Rahmen der "Monster"-Tour. Diese Tour war für viele europäische Fans die erste Möglichkeit, die Band live zu erleben. Dementsprechend riesig war die Nachfrage für die Konzerte.
Ebenfalls enthalten in der Box ist der Auftritt der Band beim Glastonbury Festival 1999 und der Mitschnitt eines Einladungskonzerts in der St. James Church aus dem Jahr 2004.
Die DVD enthält den Film "Accelerating Backwards", der sich mit den Auftritten der Band bei BBC beschäftigt und auch Interviews mit Peter Buck, Mike Mills und Michael Stipe enthält. Dazu kommt die Aufnahme einer Episode der Fernsehshow "Later...with Jools Holland", die ganz R.E.M. gewidmet war.
R.E.M. at the BBC (8-CD/1-DVD) Track Listing:
Disc 1 (64:17) – Sessions
Into The Night, BBC Radio 1, 13 March 1991
World Leader Pretend 4:36
Fretless 5:16
Half A World Away 3:33
Radio Song 4:05
Losing My Religion 4:42
Love Is All Around 3:09
John Peel Studio Session, 25 October 1998
Walk Unafraid 4:04
Daysleeper 3:18
Lotus 4:13
At My Most Beautiful 3:16
Mark and Lard, BBC Radio 1, 15 October 2003
Bad Day 4:03
Orange Crush 3:55
Drivetime, BBC Radio 2, 15 October 2003
Man On The Moon 4:59
Imitation Of Life 3:41
Radio 1 Live Lounge, 26 March 2008
Supernatural Superserious 3:23
Munich 3:18
Disc 2 (62:32) – Sessions
BBC Radio 1 Session, 25 October 1998
Introduction :26
Losing My Religion 4:44
New Test Leper 5:53
Lotus 4:48
Parakeet 4:23
Electrolite 4:23
Perfect Circle 4:39
The Apologist 4:40
Daysleeper 4:44
Country Feedback 7:23
At My Most Beautiful 4:14
Walk Unafraid 4:52
Man On The Moon 6:11
Disc 3 (58:49) – Live Broadcasts
Rock City, Nottingham, 21 November 1984
Second Guessing 2:57
Hyena 2:57
Talk About The Passion 3:04
West Of The Fields 3:07
(Don't Go Back To) Rockville 4:29
Auctioneer (Another Engine) 3:01
Central Rain (I'm Sorry) 4:51
Old Man Kensey 4:24
Gardening At Night 3:26
9-9/Hey Diddle Diddle/Feeling Gravitys Pull 5:39
Windout 1:49
Driver 8 3:25
Pretty Persuasion 3:33
Radio Free Europe 3:49
Wendell Gee 3:21
Carnival Of Sorts (Boxcars) 4:47
Disc 4 (51:59) – Live Broadcasts
Milton Keynes, 30 July 1995
What's The Frequency, Kenneth? 3:58
Crush With Eyeliner 4:42
Drive 3:51
Turn You Inside Out 4:17
Try Not To Breathe 3:50
I Took Your Name 4:15
Undertow 5:16
Bang And Blame 4:58
I Don't Sleep I Dream 4:14
Strange Currencies 4:31
Revolution 3:20
Tongue 4:38
Disc 5 (56:43) – Live Broadcasts
Milton Keynes, 30 July 1995
Man On The Moon 5:46
Country Feedback 6:49
Half A World Away 4:04
Losing My Religion 4:54
Pop Song 89 3:27
Finest Worksong 3:48
Get Up 2:54
Star 69 4:00
Let Me In 3:59
Everybody Hurts 7:24
Fall On Me 3:11
Departure 3:52
Its the End Of The World As We Know It (And I Feel Fine) 5:15
Disc 6 (43:05) – Live Broadcasts
Pyramid Stage Glastonbury Festival, 25 June 1999
Lotus 4:36
What's The Frequency, Kenneth? 4:09
So Fast, So Numb 4:47
The Apologist 4:36
Fall On Me 3:26
Daysleeper 3:29
The Wake-Up Bomb 5:01
The One I Love 3:27
Sweetness Follows 5:50
At My Most Beautiful 3:37
Disc 7 (53:28) – Live Broadcasts
Pyramid Stage Glastonbury Festival, 25 June 1999
Losing My Religion 5:24
Everybody Hurts 6:47
Walk Unafraid 4:17
Star 69 3:04
Finest Worksong 4:22
Man On The Moon 5:43
Why Not Smile 2:10
Crush With Eyeliner 4:40
Tongue 5:19
Cuyahoga 4:37
Its the End Of The World As We Know It (And I Feel Fine) 6:58
Disc 8 (55:24) – Live Broadcasts
St. James' Church, London Radio 2, 15 September 2004
Intro :47
So Fast, So Numb 5:13
Boy In The Well 5:20
I Wanted To Be Wrong 5:19
E-Bow The Letter (with Thom Yorke) 5:09
Around The Sun 5:02
Aftermath 3:58
Losing My Religion 4:47
Walk Unafraid 5:10
Leaving New York 4:48
Imitation Of Life 4:35
Man On The Moon 5:34
Disc 9 (DVD) – Television Broadcasts
Accelerating Backwards
Moon River / Pretty Persuasion / Pop Song 89 / Orange Crush / Losing My Religion / Half A World Away / Crush With Eyeliner / Man On The Moon / Daysleeper / Imitation Of Life / So. Central Rain (I'm Sorry) / All The Way To Reno (You're Gonna Be A Star) / Leaving New York
Later… with Jools Holland Presents R.E.M.
Intro / Losing My Religion / Lotus / New Test Leper / Daysleeper / Electrolite / At My Most Beautiful / The Apologist / Country Feedback / Parakeet / So. Central Rain (I'm Sorry) / Walk Unafraid / Man On The Moon / The Passenger
Bonus Videos
I've Been High / Nightswimming / Bad Day
The Best of R.E.M. at the BBC (2-LP) Track Listing:
Disc 1 – Sessions
A1. World Leader Pretend 4:36
A2. Radio Song 4:05
A3. Losing My Religion 4:42
Recorded for Nicky Campbell Session Into The Night on BBC Radio 1
First broadcast on 13 March 1991
A4. Lotus 4:13
A5. At My Most Beautiful 3:16
Recorded for John Peel Session on BBC Radio 1
First broadcast 25 October 1998
B1. Bad Day 4:03
B2. Orange Crush 3:55
Recorded for Mark and Lard on BBC Radio 1
First broadcast on 15 October 2003
B3. Man On The Moon 4:59
B4. Imitation Of Life 3:41
Recorded for Drivetime on BBC Radio 2
First broadcast 15 October 2003
B5. Supernatural Superserious 3:23
Recorded for Radio 1 Live Lounge on BBC Radio 1
First broadcast 26 March 2008
Disc 2 – Broadcasts
C1. Driver 8 3:25
C2. Radio Free Europe 3:49
First broadcast on 21 November 1984 from Rock City, Nottingham
C3. What's The Frequency, Kenneth? 3:54
C4. Drive 3:51
C5. Half A World Away 4:04
C6. Pop Song 89 3:27
First broadcast on 30 July 1995 from Milton Keynes
D1. Everybody Hurts 6:47
D2. Its the End Of The World As We Know It (And I Feel Fine) 6:58
First broadcast on 25 June 1999 from Pyramid Stage Glastonbury Festival
D3. Losing My Religion 4:47
D4. Man On The Moon 5:34
First broadcast on 15 September 2004 from St. James's Church, London
The Best of R.E.M. at the BBC (2-CD), Track Listing:
Disc 1 – Sessions
World Leader Pretend 4:36
Half A World Away 3:33
Radio Song 4:05
Losing My Religion 4:42
Recorded for Nicky Campbell Session Into The Night on BBC Radio 1
First broadcast on 13 March 1991
Lotus 4:13
At My Most Beautiful 3:16
Recorded for John Peel Session on BBC Radio 1
First broadcast on 25 October 1998
Electrolite 4:23
Perfect Circle 4:39
Daysleeper 4:44
Recorded for John Peel Session on BBC Radio 1
First broadcast 25 October 1998
Country Feedback
Recorded for Later… with Jools Holland on BBC1
First broadcast on 27 October 1998
Bad Day 4:03
Orange Crush 3:55
Recorded for Mark and Lard on BBC Radio 1
First broadcast on 15 October 2003
Nightswimming
Recorded for Later… with Jools Holland on BBC1
First broadcast on 14 October 2003
Man On The Moon 4:59
Imitation Of Life 3:41
Recorded for Drivetime on BBC Radio 2
First broadcast 15 October 2003
Supernatural Superserious 3:23
Recorded for Radio 1 Live Lounge on BBC Radio 1
First broadcast 26 March 2008
Disc 2 – Broadcasts
(Don't Go Back To) Rockville 4:29
Central Rain (I'm Sorry) 4:51
Gardening At Night 3:26
Driver 8 3:25
Radio Free Europe 3:49
First broadcast on 21 November 1984 from Rock City, Nottingham
What's The Frequency, Kenneth? 3:54
Crush With Eyeliner 4:42
Drive 3:51
Half A World Away 4:04
Pop Song 89 3:27
Finest Worksong 3:48
First broadcast on 30 July 1995 from Milton Keynes
Fall On Me 3:26
The One I Love 3:27
Everybody Hurts 6:47
Its the End Of The World As We Know It (And I Feel Fine) 6:58
First broadcast on 25 June 1999 from Pyramid Stage Glastonbury Festival
E-Bow The Letter (with Thom Yorke) 5:09
Losing My Religion 4:47
Man On The Moon 5:34
First broadcast on 15 September 2004 from St. James's Church, London
Das könnte Sie auch interessieren